Original article (in Serbian) was published on 14/11/2022
The consequences of the global economic crisis, fueled by the war, are also felt in Serbia – compared to October last year, according to the data of the statistical office, prices in the country are 15 percent higher. First of all, food and energy prices are rising, and as Bloomberg Adria writes, this is the highest inflation rate measured since 2007. Despite the gloomy situation and equally gloomy forecasts, the pro-regime web portal Srbija Danas found it appropriate to announce that the citizens of Serbia are not in a bad situation as our neighbours – while Vucic increases salaries and pensions, Croats are thinking about how to survive because in this country "day by day they are breaking records when it comes to inflation". Not only did they not write a single word about record inflation and the growing crisis in Serbia, but they also misrepresented data about Croatia. Journalist Milan Culibrk told Raskrikavanje that the inflation rate in Croatia is somewhat lower than in Serbia.
"IT'S SAD, EVERYTHING IS HARDER FOR US" While Vucic in Serbia is increasing salaries and pensions, Croats are thinking about how to SURVIVE – inflation has reached a point (VIDEO)", writes Srbija Danas in an article from Monday, November 14, and states that in Croatia "the prices of basic foodstuffs are enormous, and the standard is only decreasing".
"Just a little less than three months ago, food costs in Croatia jumped by 18.3 percent, while wages grew by only 3-4 percent – however, the neighbours managed to beat these figures as well", this web portal states.
However, according to data on inflation or price growth for September, it was 12.8 percent in Croatia compared to September 2021, and in Serbia it was 14 percent at the same time.
If we look only at the rate of increase in food prices, which Srbija Danas writes about, the situation is still worse in Serbia: compared to September 2021 (the last available data for Croatia), the prices of food and non-alcoholic beverages in September 2022 in Croatia are increased by 19.1 percent, and in Serbia by 20.4 percent.
What do other data say?
As in Croatia, prices in Serbia are rising even faster, and the standard is also decreasing, according to data from the Republic Institute of Statistics and the National Bank of Serbia, as well as the Ministry of Trade. However, there is no mention of this in the text of this web portal.
As stated in the report published today by the Republic's Statistical Office, the prices of products and services in October 2022 are 15 percent higher than in October 2021. According to the announcements of the National Bank of Serbia, the growing trend will continue: in September, they announced that "several months of slightly higher inflation rates await us" and that the rate of price growth will begin to fall more significantly only from the middle of next year.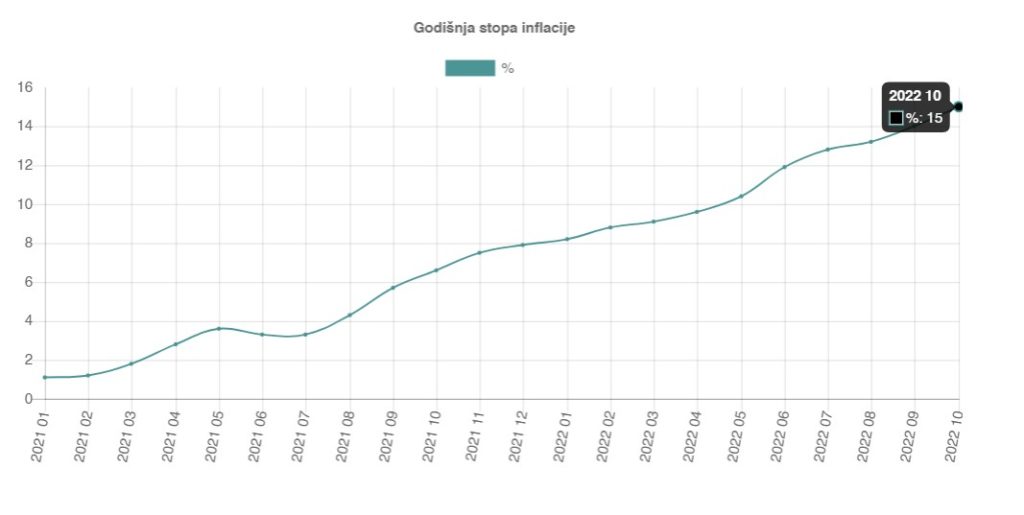 According to Bloomberg Adria, this is the highest measured inflation in Serbia since 2007.
The data of the Republic Institute of Statistics show what the citizens themselves already know, from their wallets getting thinner – the prices of restaurants and hotel accommodation, as well as food and energy, have risen the most. Compared to last October, food has risen in price by almost 24 percent, for example, milk, cheese and eggs are more expensive by almost 40 percent. The prices of rent and household energy have also increased – they are now, on average, about 18 percent higher than last year in October.
If you look at the latest data published by the Ministry of Trade on the consumer basket from August of this year (while the situation has further worsened from August to today), you can see that some basic foods are becoming less and less available.
For example, in August of this year, compared to August of last year, a consumer in Serbia was able to buy about 800 kilograms of potatoes from the average net income (which was about 75,000 dinars according to the Ministry's estimates). In August 2021, he could buy about 300 kilograms more. Likewise, he was able to buy smaller amounts of eggs, sugar, cow's milk, pork, yoghurt and coffee, compared to a year before.
According to the same data, the minimum basket could still be covered by the average salary (the minimum consumer basket in August was about 45,730 dinars), but not the average consumer basket, for which about 88,300 dinars had to be allocated.
The National Bank will present the latest inflation report to the public on Tuesday.
Milan Culibrk: We will not reach the standard of Croatia in the next 10-20 years
The editor-in-chief of the NIN weekly, Milan Culibrk, reminds us that inflation in Croatia in September was 12.8 percent (prices were increased by that much compared to September last year), and in Serbia, the annual inflation in September was 14 percent. At the same time, as he says, the average salary for the first nine months of this year in Serbia was around 630 euros, and in Croatia around 1020 euros.
"Then who is in a better position? In addition, according to World Bank data, the gross domestic product in Croatia per inhabitant for 2021 was 17,398 dollars, and in Serbia 9,215. So, Croats produce twice as much, earn twice as much as us, which is also reflected in the salary range. Their purchasing power is stronger and at the current rate of growth, we will not reach the standard of the average Croatian citizen in the next ten or twenty years", says Culibrk.