Original article (in Serbian) was published on 24/01/2023
Sasa Sredanovic has gained great popularity: for months now, in the role of a sports psychologist, she has been appearing in dozens of local media, where she talks about sports, athletes and sports psychology, and mostly about herself. If the information from her biography were correct, the media publicity she gained would be completely justified, because Sredanovic presents herself as a sports psychologist for FC Barcelona, i.e. Barcelona's La Masia academy, with previous work experience in the clubs Olimpija Ljubljana, Athletic Bilbao and Real Betis. From all these clubs – however – Tragac received a negative response to the inquiry about cooperation with Sasa Sredanovic.
It doesn't end there: Sasa Sredanovic claims that she completed specialist studies in sports psychology at Maastricht University. We are talking about specialist studies that do not exist, nor have they ever existed. When we asked to talk to Sredanovic about some things from her biography, we first received threats of a lawsuit from her PR manager, and then our newsroom received a warning against a lawsuit from the "Zejakovic Law Firm" with the logo of the Belgrade Association of Lawyers (AKB). That office does not exist, and the abuse of the logo was reported to AKB.
In the text that follows, we will present all the information from Sasa Sredanovic's biography that has been officially refuted or is proven to be impossible / unreliable.
"Head Sport psychologist" and coffee with Joaquin
In the media, Sasa Sredanovic presents herself as a sports psychologist who graduated in clinical psychology at Maastricht University in the Netherlands and then specialized in sports psychology at the same university. She mentions that she speaks seven languages, and that she is a sports psychologist for the whole team, but that she was profiled in the club as an attacking psychologist.
She states that she initially worked for smaller clubs in the Netherlands, Germany, Switzerland, and then came to Olimpija in Ljubljana. Then, she says, she went to Spain, where she worked for Atlético Bilbao, then for Real Betis, and then after the transfer, she was brought by Barcelona, that is, its La Masia academy. On his verified Instagram account, Sasa Sredanovic claims to be (pay attention!) "Head Sport psychologist".
She often mentions how she works closely with coaches and football stars. So, for example, she states that she is responsible for Injaki Williams being moved from point guard to wing, while she regularly drinks coffee with Joaquin Sanchez and they are so close that "he is a psychologist to her". She told the media the following anecdote: coach and legend of Barcelona Xavi teased the Polish player Robert Lewandowski, telling him that there were more reports in Poland about Sasa Sredanovic coming to Barcelona than about him.
She says that she has been doing this job for 15 years and that she came into the spotlight when she decided to hold a sports psychology seminar at Hotel In a few years ago.
How credible are Sasa Sredanovic's claims? We certainly did not have the opportunity to check the anecdotes, but we did check the key elements of her biography. Let's start from the beginning.
Previous analysis
In mid-December 2022, FakeNews Tragac investigated whether Serbia was "the only European team at the World Cup in Qatar that travelled without a psychologist". We contacted the media representatives of the European selections and received confirmation in five out of seven responses that the team does not have any psychologists in the professional team.
The false information came from Sasa Sredanovic, in her interview with Radio-Television of Serbia. Then we tried to check another piece of information from the text of the public service: that Sredanovic is "on the official list of the highest paid coaches in the elite Spanish football La Liga". We did not find such a list, so we decided to focus on other information from the biography, but again without success – there was no news or information about Sredanovic on the internet presentations of the clubs where she allegedly worked. We decided to contact them.
Responses from clubs
In the inquiries we sent to Olimpija, Athletic Bilbao, Real Betis and Barcelona, we referred to Sasa Sredanovic's allegations about involvement in these clubs. All four answers have arrived and all four are negative.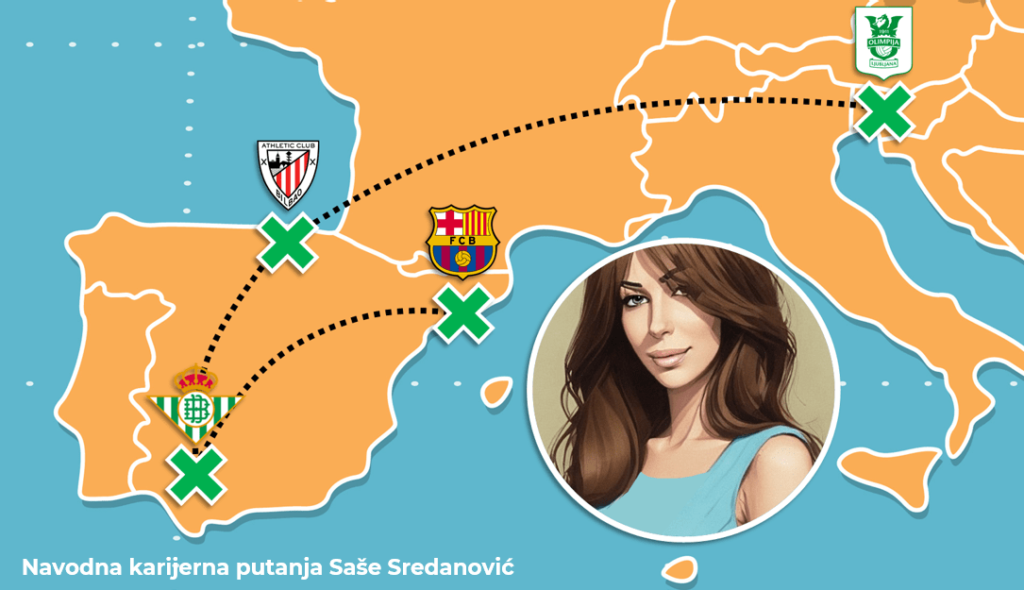 Sasa Sredanovic states that she signed a contract with Olimpija Ljubljana and spent two and a half years there. The same club replied to Tragac that, according to their records, a person with that name never signed any contract with the club.
We received an answer from FK Athletic Bilbao that they asked about Sasa Sredanovic among the experts from the medical department of that club and that none of them remembers working with a person named Sasa Sredanovic. When we asked about Sasa Sredanovic's engagement, we also received a negative response from Real Betis.
From Barcelona – where Sredanovic is allegedly currently employed – they very quickly answered us that "no one with this name works at La Masia". In further communication, we sent Barcelona's media officer a link to Sredanovic's Instagram profile, where the description contains information about the engagement in Barcelona / La Masia. We received an identical answer: no, that person does not work at La Masia.
Read more: Inconsistency in statements about cups
The inconsistencies in her speeches cast an additional shadow on the allegations about Sasa Sredanovic's engagements. On January 15, Barcelona beat Real Madrid in the Spanish Super Cup final with a score of 3:1. Sredanovic soon published an illustration with four trophies on Instagram, and the next day in the text published by Blic, it is stated that this is Sasa Sredanovic's fourth trophy with the fourth club: in addition to the Super Cup with Barcelona, the King's Cup with Real Betis, the Super Cup with Atlético Bilbao and Cup of Slovenia with NK Olimpija. However, there is an inconsistency in this "championship chronology". Sredanovic states that she was first in Olimpija, and then in Bilbao. However, Bilbao won the Super Cup on January 17, 2021, more than four months before Olimpija (May 25, 2021) won the Slovenian Cup.
College and a mysterious specialization
In the media, Sredanovic points out that she completed clinical psychology at Maastricht University in the Netherlands, and then specialized in sports at the same faculty.
Due to the "European privacy guidelines", it is not possible to obtain official confirmations about the status of students and graduates at Maastricht, but there are several impossible and unfounded claims in the information about Sasa Sredanovic's education.
First, on Sasa Sredanovic's Linkedin profile, it is stated that she graduated from "Maastricht University of clinical psychology", and such an institution does not exist. At the University of Maastricht, basic studies in psychology are offered in English and Dutch.
Second, on the official website of this university, there is no information about basic, master's or specialist studies in sports psychology. We sent an inquiry to Professor Gil ten Hor, the coordinator of the only subject dedicated to sports psychology at the University of Maastricht, and he confirmed to us that the specialization that Sasa Sredanovic mentions does not exist, nor is he aware that it exists in that city, or in any other educational institution is it possible to specialize in sports psychology. Currently, even the course "Sport & Exercise Psychology", where ten Hor was the coordinator, is no longer active.
Third, in an interview with Sputnik on the "Miljanov korner" show, Sredanovic explains that, in order to register for the graduation exam, she had to have 3,600 hours of work with athletes. If we were to divide this number by eight working hours per day, we get 450 working days. This is an unusually high requirement for an undergraduate student, especially when seen in the context of the requirements that, for example, are required to obtain the European Certificate for Psychotherapy, for which a total of 3,200 hours of theoretical and practical work is sufficient.
Read more: Stolen motivational quotes
Sredanovic mentions that sports psychology and motivational speakers are not the same, but motivational quotes signed with "S" can be found almost every day in the Instagram story section of her profile. It is difficult to determine who first said or wrote down the quote, but we found each one we analyzed on Google. For example, the quote "Dreams and dedication are a powerful combination" is attributed by most sources on the Internet to the writer William Longwood. "When things go wrong, don't go with them" was said by the musician Elvis Presley, and the quote "Champions keep playing until they get it right" belongs to the famous tennis player Billie Jean.
Refusing to communicate: "Friendly advice, don't publish anything"
After Barcelona denied in its response that Sasa Sredanovic works as a sports psychologist at La Masia, we turned to Sasa Sredanovic in an attempt to hear her side, that is, to get any proof that she works at this club.
Instead from her, we got the answer from Seka Sredanovic, who introduces herself as Sasa's PR manager. At first, we were told that "Sasa is in a lot of trouble and problems", and then that according to the contract, she cannot make statements for this season. When we tried to explain the reason for the research to her PR, she already mentioned the lawsuit in the second sentence: "You wouldn't be sued by us, but by the authorities. Friendly advice, don't publish anything", the reply read.
On our last attempt to get any proof, we were told that "we would have to know who Sasa Sredanovic is" and that she "is not obliged to prove anything", and we were also given advice: "My advice, go about your business which you are doing very well, leave Sasa Sredanovic aside, I have warned you", PR Seka Sredanovic wrote.
Warning of a non-existent lawyer
Not long after the above-mentioned correspondence, the editor-in-chief, the assistant editor, and the manager of the FakeNews Tragac were sent a warning before the lawsuit "on the order of our client Sasa Sredanovic" by a certain lawyer Milos Zejakovic from, as stated, "Advocate office Zejakovic".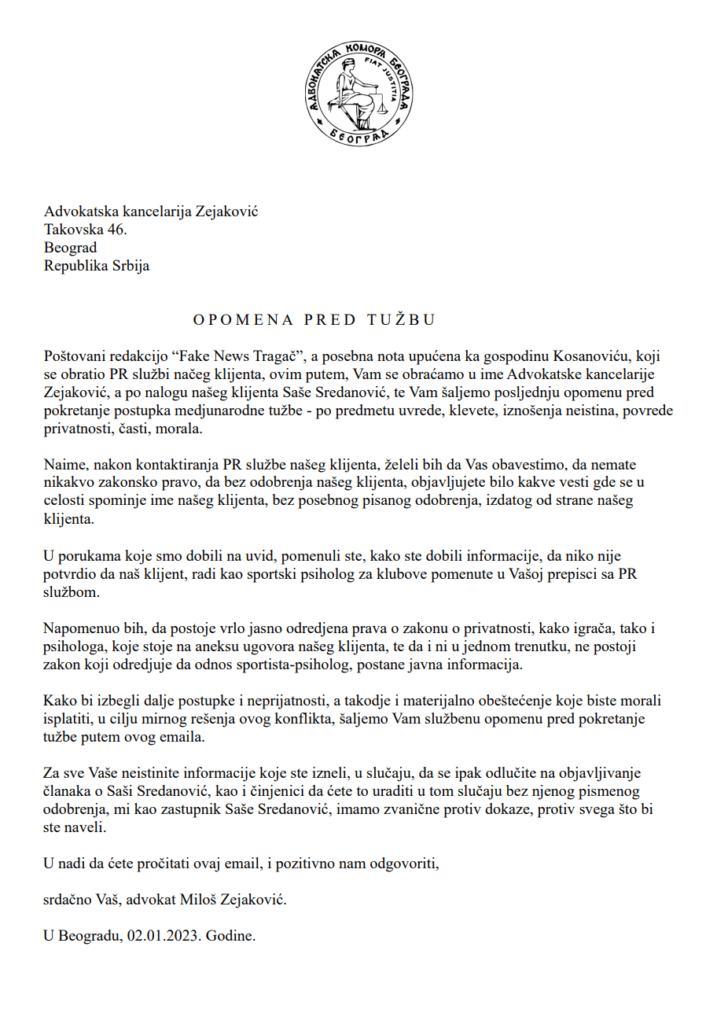 In the warning, a "special note" is addressed to the journalist who came into contact with PR Seka Sredanovic and it is stated that this is a warning before "the initiation of international lawsuit proceedings – on the subject of insult, defamation, telling untruths, violation of privacy, honour, morals".
The document that was sent to us via email contains the logo of the Belgrade Association of Lawyers, as well as information that the Zejakovic Law Office is located at Takovska 46 in Belgrade. We tried to find an office and a lawyer with the help of a Google search – we did not succeed. We were also at the address Takovska 46, and in the building at that location, we did not find any law office, nor a sign with the name of the office, which would have to be clearly displayed in such a place. One of the tenants of Takovska 46 told us that she does not know of any law office in that complex.
Since we could not find the "Zejakovićc Law Office" in the register of the Belgrade Association of Lawyers, we contacted the AKB, where they confirmed that a lawyer named Milos Zejakovic does not exist in their records and that there are no registered law offices at Takovska 46. They also requested that we forward the warning we received to them so that they could investigate a potential case of misrepresentation.
We sent an inquiry to the e-mail from which we received the warning, requesting a scan for registration in the lawyer association. We have not received an answer to it until the day of the conclusion of this article.
Read more: Building publicity
Sasa Sredanovic was an interviewer in television programs Prva, K1 and Kurir / Adrimedia television. She was a guest on Glas-javnosti, Sputnik and Slavija info podcasts. RTS, N1, 021, K1, Danas, Direktno, Blic zena, Okvir, Serbian times, Kurir (1, 2, 3, 4, 5, 6, 7, 8, 9, 10, 11, 12, 13, 14), Sportski Zurnal, Sportal Blic (1, 2, 3, 4, 5), Sportfem (1, 2), Republika, Maxbet sport, Mondo, Nova, Espreso, Vojvodjanski, Informer, Novosti, Slavija info, Objektiv (1, 2), 025info, Drugacije Srbija Danas, Glossy, Sportski centar opstine Kula, B92, Nogomania, Vesti-rs, Ekipa24.sl, Vjesti.me, Mondo.me, N1info.ba, CDM.me (1, 2), Klix.ba, Aloonline.me, Avaz.ba, CG-fudbal, Gol Dnevnik.hr, Slobodna-bosna.ba, Sport1.oslobodjenje.ba, Index.hr, Dan.co.me, Radiosarajevo.ba, Pobjeda.me (1, 2), Sportski.me, Gradski.me, Telegraph.bg, Standard.co.me, Lopta.me, Slobodenpecat.mk, Raport.ba i Scsport.ba wrote about Sasa Sredanovic. At the end of December, she was a speaker in Becici and on that occasion held a lecture entitled "The Psychology of Winners". RTV Budva reported that the Municipality of Budva had a "significant role in the organization of this lecture, and the plan is to continue the cooperation between Sredanovic and the Montenegrin sports federations and new guest appearances in Montenegro and Budva".