Original article (in Albanian) was published on 24/10/2023; Author: Ilda Hoxha
The Israeli embassy in Bahrain was not targeted with Molotov cocktails, contrary to assertions made in articles circulated by the media in Albania. Faktoje, a fact-checking outlet, conducted a verification process and determined that the images in question date back to November 2012, bearing no connection to current developments in the Middle East.
On October 20, an article from online media in Albania alleged that the Israeli embassy in Bahrain fell victim to a Molotov cocktail attack, accompanying the claim with a video depicting the purported event.
"Molotov cocktail attack on the Israeli embassy in Bahrain, Israel withdraws diplomats from the Middle East " – writes "Abc News".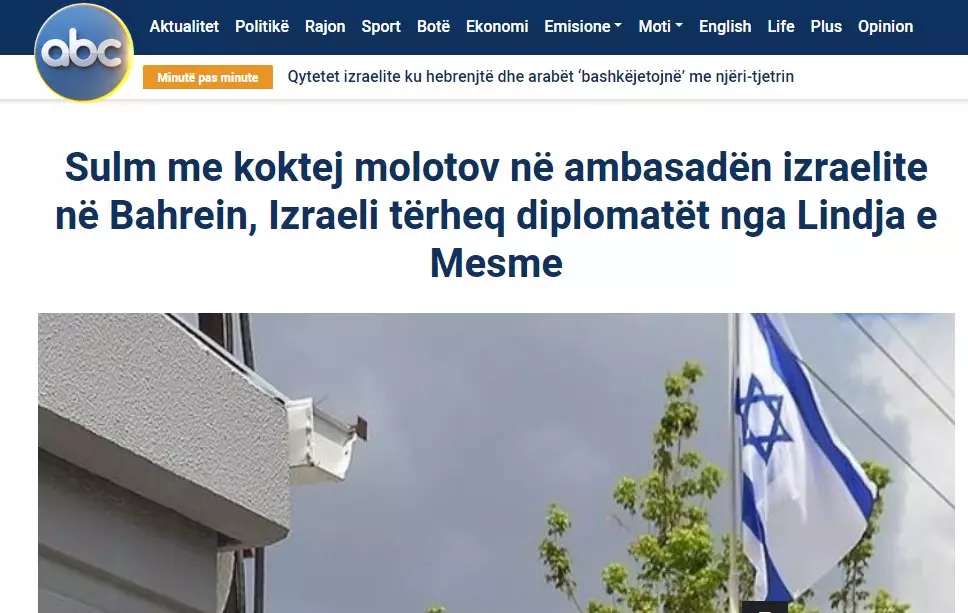 News published by 'Abc News'
This video shows a building on fire at night, while a group of individuals outside persistently hurls gasoline-filled bottles set ablaze. To determine the authenticity of the circulating footage, Faktoje initiated a verification process, beginning with the utilization of photo verification tools.
Upon reviewing the results, it becomes evident that this particular video has been available on YouTube since December 30, 2012, and is unrelated to the current military escalation in the Middle East.
According to the Arabic title and caption accompanying the original video, it depicts demonstrators attacking a police station with Molotov cocktails on November 3, 2012, in Sitrah, a city in the northeast of Bahrain. According to information on this page, the attack occurred following reports of deteriorating health for Hassan Mushaima, the leader of an opposition party in Bahrain. Mushaima had been sentenced to life imprisonment for his involvement in the 2011 protests, part of the larger 'Arab Spring' movement.
The news about the attack on the police station in Sitrah was previously covered by United Press International (UPI), an American news agency.
In addition, there is no evidence in the local and international media of an attack on the Israeli embassy in Bahrain. On October 16, 2023, the official website of the embassy, located in Manama, the country's capital, released a statement announcing the suspension of consular services until further notice due to security concerns.
These claims have also been verified by foreign media fact-checkers, all of whom concur that there is no substantiated evidence supporting the claim that the Israeli embassy in Bahrain was targeted with Molotov cocktails.